Support for Ukraine
"Our motto: we have to stick together and be flexible."
"Our motto: we have to stick together and be flexible."
Date:
Place:

Strausberg
Reading time:

0 MIN
Lieutenant General Michiel van der Laan is director of the EU's MPPC (Military Planning and Conduct Capability) and thus responsible for all EU military missions.
5 Questions to

Michiel van der Laan

Lieutenant General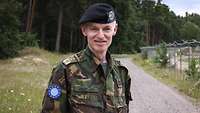 Major Björn Lenz
General, you have only recently taken command of the MPCC. What is your first impression of the mission?

I took over on June 29, not even a month ago. But my first impressions are very good. I have seen in Strausberg that there is very close cooperation with the MPCC in Brussels and also with CAT-C in Poland. This triangle works, and I see that everywhere the soldiers are very motivated and committed. What pleased me most during my visit to the ST-C is the motivation of the Ukrainians and their satisfaction with what they have done here.
Major Björn Lenz
What is the importance of the training mission for the EU?

The mission is very important for the EU. First, EUMAM UAEuropean Union Military Assistance Mission Ukraine is the first mission on EU territory – although formally only temporarily. So far, the MPCC missions have been outside the EU territory.
Second, it shows that we can conduct an integrated operation together with civilian actors. There is not only our training mission, but also a large number of other measures has been taken by the EU. I think that's also the strength of the EU, that we have all these instruments - not only military, but also economic, political, economic, and so on.
Third, the mission shows the solidarity of the EU countries, and also outside the EU - Norway, for example, is also part of this mission. This solidarity is very important. First, for Ukraine, so that the citizens there see that Europe as a whole is providing support, and second, so that the people in Europe also see that we are doing this together. I think that's why this mission is so important. The most important thing is that we support Ukraine and its struggle. It is more or less our fight, because security in Europe without security in Ukraine is very questionable.