Artillery
The diversity of the German Army is reflected in its different branches. Each of these branches has its very own set of distinct skills and capabilities, yet they are at their strongest and most successful only when they work together. Specialised equipment is used to overcome a wide variety of challenges. Learn more about the Army's artillery.
Our mission
The artillery is a combat support branch of the German Army. Its artillery units support the combat forces with long-range artillery fire. The armoured self-propelled Panzerhaubitze 2000 howitzer and MARSMittleres Artillerieraketensystem II rocket launcher are their primary weapon systems.
Army artillery affords an important contribution in combat actions, whatever the intensity and scenario. It gives combat forces fire support by engaging point and area targets as well as adversarial forces over long distances.
The fire fight is conducted by Joint Fire Support Teams on the ground from forward positions during combat, with artillery observers, forward mortar observers and air control teams forming a team. These accompany the combat forces and are capable of working together with other services, such as the Air Force, Navy and Special Operations Forces and also allied armies, in all employment area dimensions.
The artillery also has diverse possibilities to reconnoitre adversarial forces and is able to engage them at long range at any time of day or night, in any weather conditions.
The artillery currently has a personnel strength of 5,157 soldiers, at whose head is the Director, Artillery, who is also the director of the central artillery training facility in Idar-Oberstein.
Long-Range Weapons Effects
Artillery is the mainstay in any fire fight. Meaning it is able to fire at any time of day or night, regardless of the weather. Artillery renders support quickly and precisely. Great distances, from weapon to target, are the rule. Effects with precision and standoff capability is a term also used. The delivery systems employed for this purpose by the artillery are self-propelled howitzers and rocket launchers.
Reconnaissance and Command and Control
Before a target can be engaged, it has to be identified and clearly designated through reconnaissance. The artillery has numerous reconnaissance resources at its disposal for that task. Radar equipment and airborne systems complement eye spotting, making it possible to locate targets with a high degree of accuracy. Optimum target engagement and command and control of all forces require resources capable of interlinking reconnaissance and effects, for which purpose target data and other information is transferred using ADLER, a radio-assisted artillery command, control and weapon deployment network, and transmitted digitally to the weapon systems, thus significantly facilitating the immediate engagement of targets.
The "Artillery System"
Artillery becomes effective only within an integrated system. This network of command, control, reconnaissance and effects, referred to as an "artillery system", is what really brings out the arm's full potential in all operational scenarios. Its tight cooperation with the Air Force, Navy and allied armed forces typifies the artillery as an Army capability geared to joint and combined requirements.
Modernly equipped and fit for the future, artillery will continue to be a key player serving the land forces.
Army artillery
Passen Sie jetzt Ihre Datenschutzeinstellungen an, um dieses Video zu sehen
How the artillery fights
Please use the arrow keys (left / right) below to jump to the previous / next slide. Use the tab key to jump to elements (such as links) within the active slide.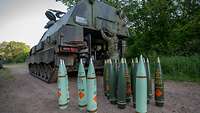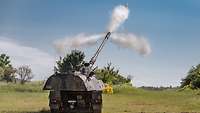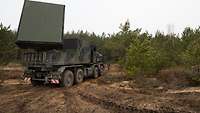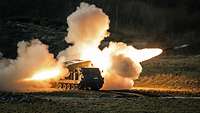 You are now leaving the slide module. Press Tab to continue, or otherwise just use the arrow keys to continue navigating.

Battle cry of the artillery forces
Zu – Gleich! (Close – Ready!)
Our Equipment
For its tasks the artillery is equipped with a variety of wheeled and tracked vehicles, among them the FENNEK light armoured reconnaissance vehicle and the MARDER armoured infantry fighting vehicle. Its weapon systems include the armoured self-propelled Panzerhaubitze 2000 howitzer and MARSMittleres Artillerieraketensystem rocket launcher. With the Panzerhaubitze 2000 as their main weapon system, the artillery units of the German Army have one of the most advanced and effective tube artillery systems at their disposal. In addition to these two weapon systems, the artillery includes observation and reconnaissance equipment. Its various radar systems such as COBRA Counter-Battery Radar and ABRA Artillery Observation Radar are complemented by unmanned aerial reconnaissance drones.
Our History
History of the artillery