United Nations
With Heart and Soul for the United Nations
With Heart and Soul for the United Nations
Date:
Place:

Hamburg
Reading time:

6 MIN
In the 1990s, he was one of the first military observers deployed by the Federal Republic of Germany to a United Nations (UNUnited Nations) peacekeeping mission. He has never regretted this step, which has been essential for his further career. Today, Lieutenant Colonel Karl Rüdiger Tillmann shares his wealth of knowledge and experience with young staff officers at the Bundeswehr Command and Staff College, where he teaches about the UNUnited Nations and the EU.
'When I joined the Bundeswehr as a conscript, I had no idea where I was going with my career,' Lieutenant Colonel Karl Rüdiger Tillmann begins to tell his story. He liked the first months in the Bundeswehr and thus applied for an officer career. After completing his infantry training and his subsequent studies in educational science in 1984, he gained first leadership experience in an infantry battalion and later on as company commander in an armoured infantry battalion. 
Subsequently, he completed the Basic Staff Officer Course and then decided to give his career an international dimension. He was offered an assignment at Hammelburg Infantry School, which also was to accommodate the future Bundeswehr United Nations Training Centre. Part of his assignment was a comprehensive UNUnited Nations training programme as well as a mission abroad. 
The United Nations Staff Officer Course in Sweden had aroused his interest, so he applied for a place on the course and came out on top against several other candidates. After this three-week course during which he was familiarised with the fundamentals and rules of behaviour in the international environment of a UNUnited Nations mission, he signed up for a mission as a military observer.
The Mission in Georgia
In 1995, he was one of the first German military observers in Georgia/Caucasus, where he was deployed to the Kodori region (2,800 meters above sea level). After an introductory briefing at the UNUnited Nations headquarters in Sukhumi (Abkhazia), he had to rely on himself. 'My mission was to monitor a humanitarian protection zone for the Svan population,' Lieutenant Colonel Tillmann explains. Part of this mission was to maintain contact with the Russian peacekeeping forces and to have talks with the local Abkhazian population. 
'My accommodation was a hut at an altitude of about 2,500 meters; the path leading up to the hut was steep and a far cry from a road.'
Even daily routine became a challenge. He washed himself in the river and got his drinking water from a spring. For food, he had to plan in advance and cover a distance of ten kilometres through partly mountainous terrain. For one or two days every week, he was assisted by an interpreter, who accompanied him on his visits to the locals to inquire about their situation.
Attacked and Taken Hostage
On a regular basis, Rüdiger Tillmann, then Captain, reported his observations to the UNUnited Nations office and received orders to conduct new reconnaissance missions. 'The terrain was so mountainous and impassable that even travelling just a few kilometres took a lot of time. Our vehicle got stuck countless times; every time we crossed a bridge, I prayed that it would hold our weight,' Lieutenant Colonel Tillmann recalls. 
Yet all these impressions pale in comparison to one event that is still ingrained in his memory: 'I was driving with my interpreter and suddenly, everything happened very quickly: Our vehicle was fired at and we were forced to stop. The attackers held us at gunpoint, dragged us out of the vehicle and abducted us.' What happened afterwards had been part of his preparatory training. However, he had never thought this might happen to him, that he would actually be taken hostage. 
The kidnappers used psychological tricks and physical violence against him. For instance, they told him that the other hostage had already been executed – in order to obtain his cooperation with regard to their only goal: they did not want the UNUnited Nations to dismantle the humanitarian protection zone. There were fears that Georgian or Abkhaz forces would annex the region and suppress the Svans with utmost brutality.
Four days after the kidnapping, the UNUnited Nations announced that the protection zone would not be dismantled for the time being. And thus, Karl Rüdiger Tillmann's ordeal as a hostage ended after 90 hours. Fortunately, the interpreter survived, too. Rüdiger Tillmann was more than glad that the situation had been resolved and that he could leave the region alive. Despite having been subjected to physical violence and the kidnappers' arbitrary behaviour, he later returned to the region to resume his duties.
Further Missions
Lieutenant Colonel Tillmann was not deterred by the experiences and hardships of his first deployment in Georgia. On the contrary, he wanted to continue his commitment to UNUnited Nations training programmes and missions abroad. Consequently, he joined further missions in Bosnia, Afghanistan, Sudan and South Sudan. Moreover, he completed several shorter missions as a trainer in the scope of the Partnership for Peace Program in the Czech Republic. He was also involved in the establishment of a UNUnited Nations Military Observer Course in Argentina and went on various fact finding and evaluation trips for the UNUnited Nations in Congo, South Sudan, Mali, Ethiopia, Eritrea and Uganda. 
In addition to these missions, Lieutenant Colonel Tillmann was also granted several months' leave from his duties as a Bundeswehr soldier to work for the United Nations in New York where he dealt, among other things, with the quality management of UNUnited Nations training, supporting training measures as a military policy adviser and in the field of personnel management.
His personal highlight was an assignment with the UNUnited Nations-led mission in Afghanistan, where he worked as a technical and military policy advisor to the mission leadership for almost two years, being active throughout the country. The United Nations Assistance Mission to Afghanistan (UNAMAUnited Nations Assistance Mission in Afghanistan), a UNUnited Nations Special Political Mission, is still present in Afghanistan today.
Commitment for the
Bundeswehr

Command and Staff College

When Lieutenant Colonel Tillmann talks about his work for the United Nations, his eyes start to sparkle and it is clear that he is sharing his experiences with great enthusiasm. Not only does the lecturer at the Bundeswehr Command and Staff College know the respective processes, code of conduct and training contents back to front, he is also able to bring them to life. The students on the National General/Admiral Staff Officer Course (NGASOC), the International General/Admiral Staff Officer Course (IGASOC) and the United Nations Staff Officers Course (UNSOC) are benefiting from this in particular, as Lieutenant Colonel Tillmann teaches about the UNUnited Nations on these courses for several weeks each year. After more than 40 years of service in the Bundeswehr and several years with the United Nations, the 60-year-old is still very active in his spare time, too: he enjoys practicing judo, reads to relax, and loves to ride around in his sports car.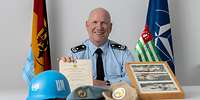 Please use the arrow keys (left / right) below to jump to the previous / next slide. Use the tab key to jump to elements (such as links) within the active slide.
You are now leaving the slide module. Press Tab to continue, or otherwise just use the arrow keys to continue navigating.