Officer Careers
In the officer career group, men and women can rise to the Bundeswehr's highest ranks.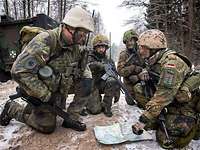 Officers – the Bundeswehr's command personnel
Officers hold the highest ranks in the Bundeswehr. Officer careers comprise the different grades of the lieutenant, ensign, captain, field-grade officer and general ranks. While the rank designations in the Army and the Air Force are the same, they are different in the Navy and the Medical Service. Within the Medical Service, physicians, pharmacists and veterinarians have their own rank designations such as captain, Pharmacy Corps or lieutenant, Pharmacy Corps (OF-2). The rank insignia are also different.
Responsibility and versatility
In officer careers, military personnel can take different paths. Line officers take responsibility at an early stage as superiors and instructors and are deployed directly in the companies, on ships and in wings. They lead, educate and train the servicemen and women entrusted to them. In addition to direct contact with the military personnel, their day-to-day business also involves administrative tasks: writing orders, planning training programmes, writing evaluation reports or managing materiel.
Members of the officer career group who have completed medical studies, dentistry studies or veterinary medicine studies can be employed as physicians or veterinarians in the Bundeswehr. Those who have successfully completed pharmacy studies can become Bundeswehr pharmacists. Medical Service officers can either study at a civilian university during their tour of duty or join the Bundeswehr having already completed their university studies.
By switching to an officer career, senior NCOs can become officer specialists. These experts specialise in an area such as personnel affairs, information technology or automotive and electrical engineering.
Profession and calling
Those who decide to pursue line officer careers first enlist as temporary-career volunteers for at least 13 years. This minimum period of service may also be as much as 17 years, depending on the functional area and the training required. Officer training is not limited to military subjects. The Bundeswehr offers young officer candidates the opportunity to complete one of some 50 bachelor's and master's degree courses at one of the two Bundeswehr universities.
After completing their active duty, officers may continue to support the Bundeswehr as reservists until the end of the month in which they turn 65.
Ranks
 Ensign and different grades of lieutenant and captain
| Rank | Minimum period of service | NATO rank |
| --- | --- | --- |
| Second lieutenant/ensign | 3 years | OF-1 |
| First lieutenant/lieutenant, junior grade | 2,5 years as an officer | OF-1 |
| Captain/lieutenant | 5 years as an officer | OF-2 |
| Captain, Medical Corps or lieutenant, Medical Corps/captain, Pharmacy Corps or lieutenant, Pharmacy Corps/captain, Veterinary Corps | with medical/pharmaceutical/veterinary licence or state certification | OF-2 |
| Captain, senior grade/lieutenant, senior grade | 15 years as an officer | OF-2 |
Field-grade officers
| Rank | Minimum period of service | NATO rank |
| --- | --- | --- |
| Major/commander, junior grade (lieutenant commander) | 9 years as an officer | OF-3 |
| Major, Medical Corps or lieutenant commander, Medical Corps/major, Pharmacy Corps or lieutenant commander, Pharmacy Corps/major, Veterinary Corps | 2 years as a Medical Service officer | OF-3 |
| Lieutenant colonel/commander | 13 years as an officer | OF-4 |
| Lieutenant colonel, Medical Corps/lieutenant colonel, Pharmacy Corps/lieutenant colonel, Veterinary Corps/commander, Medical Corps/commander, Pharmacy Corps | 5 years as a Medical Service officer | OF-4 |
| Colonel/captain | 15 years as an officer | OF-5 |
| Colonel, Medical Corps/colonel, Pharmacy Corps/colonel, Veterinary Corps/captain, Medical Corps/captain, Pharmacy Corps | 10 years as a Medical Service officer | OF-5 |
Generals
| Rank | NATO rank |
| --- | --- |
| Brigadier general/rear admiral (lower half) | OF-6 |
| Brigadier general, Medical Corps/brigadier general, Pharmacy Corps/rear admiral (lower half), Medical Corps | OF-6 |
| Major general/rear admiral (upper half) | OF-7 |
| Major general, Medical Corps/rear admiral (upper half), Medical Corps | OF-7 |
| Lieutenant general/vice admiral | OF-8 |
| Lieutenant general, Medical Corps/vice admiral, Medical Corps | OF-8 |
| General/admiral | OF-9 |
Rank insignia – an overview