The Bundeswehr's International Crisis Management
Crises in other countries or on other continents can endanger security in Germany. The Bundeswehr is therefore involved in multinational operations that are intended to prevent or manage crises and to restore stability to the affected regions. In international crisis management, the Bundeswehr is expected to take on even more responsibility in the future in order to contribute to the handling of crises.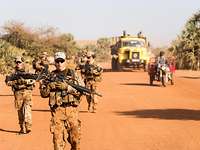 What is international crisis management?
International crisis management includes all measures aimed at preventing, containing or peacefully resolving an armed conflict between countries, different parts of the population or other conflict parties. The main objectives of international crisis management are the prevention and containment of crises and the stabilisation of affected regions.
The Bundeswehr's international crisis management becomes apparent through operations abroad in multinational alliances and organisations. If the German government wants to send the Bundeswehr on an armed mission within the framework of international crisis management, the German Bundestag must approve the mission. This agreement by the German government and the German Bundestag helps military personnel see themselves as a parliamentary army on operations with broad support and approval.
What tasks does the
Bundeswehr

perform in international crisis management?
The Bundeswehr's mission in international crisis management is to counter threats to Germany and its allies. To this end, the Bundeswehr makes military and civil-military contributions in cooperation with its allies. The focus is on the following tasks:
Early identification of international crises
Conflict prevention, crisis management, post-crisis rehabilitation, and stabilisation
In international organisations, alliances and partnerships:
Involvement in United Nations (UN

United Nations

) peace missions
The fight against international terrorism
Countering threats from cyber and information space, as well as new hybrid dangers
Protection of sea routes
Enforcement of embargoes and sanctions
How does the
Bundeswehr

cooperate with other armed forces?
In the Bundeswehr's international crisis management, missions are conducted in compliance with international law. German servicemen and women cooperate with allies and partners from NATO, the EU, the United Nations (UNUnited Nations) and the OSCEOrganisation for Security and Co-operation in Europe.
Ad-hoc cooperation programmes may also arise, for example to counter hybrid and terrorist threats.
Where is the
Bundeswehr

involved in international crisis management?
The end of the Cold War completely changed the Bundeswehr's international crisis management: the Bundeswehr became the "armed forces on operations (abroad)" we know today. This development began with involvement in the UNUnited Nations mission in Cambodia from May 1992 to November 1993. This was followed by missions in Somalia, other African states, the Balkans and the Middle East. At present, the Bundeswehr is involved in the following missions:
Last updated: November 2023
Mission (name)
Mission area
First mandate
Current mandate
End of mandate
Mandated personnel ceiling
KFOR

Kosovo Force

(Kosovo Force)
Kosovo
12 Jun. 1999
26 May 2023
indefinite
400
EUFOR

European Union Force

ALTHEA (European Union Force)

Bosnia-Herzegovina

28 Jul. 2022
23 Jun. 2023
30 Jun. 2024
50
UNMISS

United Nations Mission in South Sudan

(United Nations Mission in South Sudan)
Southern Sudan
8 Jul. 2011
30 March 2023
31 March 2024
50
UNIFIL

United Nations Interim Force in Lebanon

(United Nations Interim Force in Lebanon)
Lebanon
20 Sep. 2006
23 Jun. 2023
30 Jun. 2024
300
EUMPM

EU Military Partnership Mission

Niger (

EU Military Partnership Mission

Niger)

Niger

28 Apr. 2023
28 Apr. 2023
31 May 2024
60
MINUSMA

Multidimensionnelle Intégrée des Nations Unies pour la Stabilisation au Mali

(United Nations Multidimensional Integrated Stabilization Mission in Mali)
Mali
28 Feb. 2013
26 May 2023
31 May 2024
1,400
MINURSO

Mission des Nations Unies pour l'organisation d'en Referendum au Sahara Occidental

(United Nations Mission for the Referendum in Western Sahara)
Western Sahara
16 Oct. 2013
29 Oct. 2013
indefinite
20
Sea Guardian (NATO mission)
Mediterranean Sea
29 Sep. 2016
29 Mar. 2023
31 Mar. 2024
550

EUNAVOR

MED

Mediterranean

(

Mediterranean)

Irini

Mediterranean Sea
7 May 2020
26 Apr 2023
30 Apr 2024
300
Anti-IS

"Islamischer Staat"

operation/Capacity Building Iraq
(support for the anti-IS

"Islamischer Staat"

coalition, stabilisation of Iraq)
Middle East
4 Dec. 2015
18 Oct. 2023
31 Oct. 2024
500