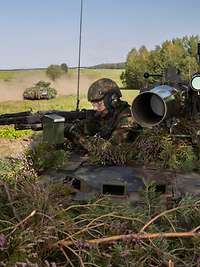 Mission and Tasks of the
Bundeswehr
Since the end of the Cold War, the demands on German security and defence policy have fundamentally changed. The mission and tasks of the Bundeswehr have therefore been adjusted time and again. They were last defined in the German government's 2016 White Paper.
Why does the
Bundeswehr

exist?
"The Federation shall establish Armed Forces for purposes of defence." This is specified in Article 87a of the Basic Law for the Federal Republic of Germany. During the Cold War, this primarily referred to defence against a direct attack on the Federal Republic of Germany and its partners in NATO , as well as protection of the Alliance territory and the population against a potential aggressor. Today, the term "defence" is broader and includes new challenges such as cyber threats, international terrorism, and even protection against pandemics.
What are the tasks of the
Bundeswehr?
What is the 2016 White Paper about?
The mission and tasks of the Bundeswehr are set out in the 2016 White Paper, the highest-level security and defence policy document. It was published by the German government. The White Paper sets out the broad guidelines and objectives of German security policy, which are derived from constitutional requirements, as well as Germany's interests, values and strategic priorities. Eleven white papers have been published since 1969.

Foreword to the White Paper,
Bundeswehr/Dirk Bannert
Germany's economic and political weight means that it is our duty to take on responsibility for Europe's security in association with our European and transatlantic partners in order to defend human rights, freedom, democracy, the rule of law and international law.
For the Bundeswehr's mission, this means:
It defends Germany's sovereignty and territorial integrity. It protects Germany's citizens. It strengthens resilience, meaning that it helps to make state and society more resilient to external threats. Furthermore, the Bundeswehr's mission is to protect Germany's allies. It enhances the transatlantic partnership as well as European integration and promotes cooperation among countries throughout the world.