Bundeswehr

Decorations and Awards

Whether for operations abroad or serving in Germany, Bundeswehr decorations and awards reflect and honour outstanding achievements by members of the Bundeswehr. The awards honour both risking life and limb in acts of outstanding courage, and exemplary performance of duty.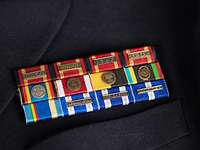 Decorations and awards
The Bundeswehr's decorations and awards range from the Medal of Honour to the Gold, Silver and Bronze Crosses of Honour, as well as the Cross of Honour for Valour. They also include the service medals and the combat medal.
Badge of Honour of the
Bundeswehr
"The Badge of Honour of the Bundeswehr is an expression of the democracy's gratitude to democrats, to citizens, whose outstanding service for our country went above and beyond the call of duty". With these words, Hans Apel, then the Federal Minister of Defence, awarded the first 34 Badges of Honour to military and civilian Bundeswehr personnel on 12 November 1980. With the Bundeswehr Cross of Honour for Valour, Franz Josef Jung, Federal Minister of Defence from 2005 to 2009, introduced a new fifth level of the Bundeswehr's Badge of Honour on 13 August 2008.
Bundeswehr

Foreign Duty Medal

Volker Rühe, the Federal Minister of Defence at that time, awarded the first Bundeswehr Foreign Duty Medals during a ceremony in Bonn on 26 June 1996. He presented the decoration, which he had introduced in April 1996, to 26 servicemen and women, reservists and civilian employees for their service during the Balkans mission in Bosnia and Herzegovina (IFORImplementation Force). They were the first recipients of an award that made the transition of the armed forces from an army for national defence to an operational army visible to the outside world. The Foreign Duty Medal is a military decoration intended for members of the Bundeswehr deployed outside Germany.
What achievements does the
Bundeswehr

honour with each of its awards?
More about: Decorations and Awards