Inclusion in the
Bundeswehr
Diversity offers great potential and requires equal opportunities. In the Bundeswehr, aptitude, performance and abilities are what count – regardless of gender, ethnic origin, religion, belief, disability, age, or sexual identity or orientation.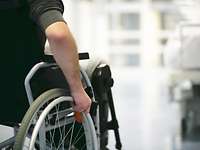 Inclusion in the
Bundeswehr

taps potential
One thing people with disabilities are especially good at is finding creative solutions to problems. After all, getting past obstacles is part of daily life for men and women with impairments. They would not get very far without resourcefulness and flexibility. This means that employers who do not hire any people with disabilities are losing out on a great deal of potential.
Inclusion: the
Bundeswehr

is an exemplary employer
At the moment, almost 9,500 people with a severe disability ID or equivalent status work for the Bundeswehr. More than 1,300 of them are military personnel, including those who came home with deployment-related health impairments such as posttraumatic stress disorder (PTSD), while more than 8,100 are civilian employees. About ten percent of civilian employees in the Bundeswehr have a severe disability. Inclusion is a testament to the Bundeswehr's desire to be a mirror of society. This goal has become even more important since the suspension of compulsory military service.
Inclusion is part of diversity
As a comparison: in the private sector, just four percent of employees have a disability. With its large percentage of civilian employees and military personnel who have a disability, the Bundeswehr is ahead of the curve in employment. It is also in keeping with a general societal development: diversity is one of the European Union's guiding principles and part of the German General Act on Equal Treatment (AGG). This means not only including people with disabilities and treating all genders equally, but also respecting ethnic, religious, sexual, demographic and social differences.
A win-win situation for everyone involved
Political and economic players have long since realised that inclusion is about more than equal opportunities and participation. It is also about giving each individual the opportunity to achieve their full potential. Studies have shown that diversity promotes creativity and innovation, meaning that it benefits everyone. A group is more productive if its members contribute different kinds of input. Accordingly, employers who make good use of their staff's diversity are more successful – a clear win-win situation.
Diverse teams – social harmony
In diverse teams, another important aspect comes into play: being different is seen as positive, and individuals are expressly encouraged to contribute their own potential. This appreciation causes members of the team to do better work and feel more satisfied. Workplaces that reflect the changes going on in the population as a whole also promote harmony in society: there are fewer social tensions if no one feels fundamentally excluded.
Diversity takes acceptance and reflection
However, dealing with diverse situations takes practice. "It doesn't occur to anyone that a standing reception isn't the best event for people in wheelchairs – until someone who is in a wheelchair comes and says: How am I supposed to communicate with you?", explains diversity researcher Andrea Bührmann from the University of Göttingen. According to Bührmann, diversity also always involves questioning our own ideas of what is "normal".
Fundamental change
This process of inclusion is not always free of tensions. Organisations have to make fundamental changes to their structure and culture. Interest representatives support this transition through educational activities. Their primary tasks involve raising the awareness of supervisors that people with disabilities should not automatically be seen as less productive. For this reason, there is no need to go easy on them without being asked to. By signing the Diversity Charter, the Federal Ministry of Defence (FMoD) has made an explicit commitment to supporting minorities. One of these minorities is people with severe disabilities.
The main idea is that having a disability does not exclude people – but barriers to accessibility in their surroundings do
Inclusion doesn't work without infrastructure
In other words, the conditions of the job must be appropriate. If the infrastructure meets their requirements, people with severe disabilities can bring all of their strengths to bear. While they cannot become soldiers, people with visual impairments or impaired mobility can easily be employed in administration and offices. Everyone can benefit from ensuring that a workplace is accessible. That is how inclusion works in the Bundeswehr.
Employing people with severe disabilities is an obligation
In order to improve their professional integration, Germany has a legally required employment rate for people with disabilities. Private companies with more than 20 employees must recruit at least five percent of their staff from those with severe disabilities. For the public service, the required rate is six percent. Employers who fail to comply with this rate must pay a compensatory levy each month.
Inclusion: the
Bundeswehr

is setting a good example
Despite this regulation, many businesses refrain from employing people with severe disabilities and choose to pay the levy instead. Heitfeld criticises these employers for shirking responsibility. Against this backdrop, the public service and the Bundeswehr serve as role models. Today, there is a general consensus that people with disabilities also belong in the Bundeswehr.
One in twelve Germans has a severe disability
According to the Federal Statistical Office's findings, 7.6 million Germans had a severe disability as of the end of 2015. This figure amounts to 9.3 percent of the total population.
People are considered to have a severe disability if the pension departments recognise that they have a degree of disability of at least 50. Their physical or mental health impairment must last for longer than six months and have a severe negative impact on their ability to participate in social life. People with a lower degree of disability who still suffer major disadvantages can apply for a status equivalent to having a severe disability. 1.8 million Germans have the highest degree of disability, 100.
Three in four people with severe disabilities are over 55 years old. 61 percent have a physical disability, while 12 have an intellectual one. Nine percent suffer from central nervous system disorders. For 18 percent, the type of disability has not been specified. 86 percent of impairments were caused by accidents. Of the people with severe disabilities, 0.3 percent have a health impairment as a result of military service, alternative civilian service or war.
Legislation provides support for people with severe disabilities to facilitate their participation in society. Accordingly, measures are in place to compensate for disadvantages in their professional and personal lives. For example, people with severe disabilities have five additional days of paid leave per year and additional protection against termination of their employment, and do not have to work overtime.