Junior Noncommissioned Officers
They are experts in their fields. Electricians in the Navy, air vehicle mechanics in the Air Force and motor vehicle drivers in the Army are just a few examples of junior noncommissioned officers.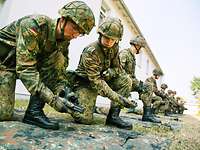 Junior noncommissioned officers – experts in uniform
The junior noncommissioned officer rank category comprises the lower NCO ranks. In German, the names of the NCO ranks refer to the "Portepee", the sword knot traditionally looped around the hilt of a sword. Senior ranks had such a loop, whereas junior noncommissioned officers did not.
In the Bundeswehr, the junior NCO rank category comprises the Army and Air Force ranks of "Unteroffizier" (OR-5) and "Stabsunteroffizier" (OR-5, senior grade) as well as "Fahnenjunker" (probationary officer cadet; OR-5). In the Navy, the junior NCO ranks are "Maat" (OR-5), "Obermaat" (OR-5, senior grade) and "Seekadett" (petty officer second class (naval officer cadet); OR-5).
Candidates are a special case
Probationary officer cadet and petty officer second class (naval officer cadet) are candidate ranks in the officer career group. Military personnel with these ranks are still in training to become officers.
The other junior NCO ranks often have the addition of FAFeldwebelanwärter for "Feldwebelanwärter" or BABootsmannanwärter for "Bootsmannanwärter" (both senior NCO candidates). As with the officer ranks, this means that the personnel are still undergoing career training.
Officer candidates of the Army or the Air Force can be recognised by the silver braid that complements the rank insignia. In addition to the rank insignia of petty officer second class, officer candidates of the Navy wear a golden star that marks them as future officers. Army and Air Force senior NCO candidates wear a dark gold braid, whereas Navy senior NCO candidates wear two horizontal parallel stripes in the rank insignia.
Specialists in their fields
Junior NCOs have a wide variety of tasks. Most of them are specialised in a certain field and are known as "NCO specialists". In this context, the Bundeswehr distinguishes between NCO specialists in the medical service, the military music service and the general specialist service.
Part of the NCO specialist training is vocational training with a state-recognised qualification appropriate for the future scope of tasks. Occupations in the general specialist service include electronics technician, air photograph interpreter, motor vehicle driver, cook, personnel specialist and many more. If a serviceman or woman has already received appropriate training, he or she can be directly employed in the junior or senior OR-5 rank. An NCO's regular tour of duty is twelve years. In future, NCO specialists can also become career service members.
Ranks
| Rank | Minimum period of service | NATO |
| --- | --- | --- |
| Sergeant/staff sergeant/petty officer second class |  12 months | OR-5 |
| Probationary officer cadet/petty officer second class (naval officer cadet) |  12 months | Student Officer |
| Sergeant, senior grade/staff sergeant, senior grade/petty officer second class, senior grade | 24 months | OR-5 |
Rank insignia – an overview