Voluntary Military Service: An Opportunity, Not an Obligation
Security cannot be taken for granted. Protecting Germany and its citizens is and will remain the central mission of the Bundeswehr in future. Everyone can do their part to defend our values and ensure that we can continue to live in peace and freedom. Voluntary military service is one way of doing this – and it is an attractive one.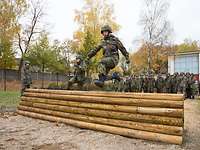 Voluntary military service instead of compulsory military service
With the suspension of compulsory military service in 2011, the Bundeswehr was transformed into a volunteer army. The introduction of voluntary military service was at the heart of this transformation. This service combines civic engagement with getting to know the armed forces and life as a soldier. With a term of enlistment between 7 and 23 months, interested people have the opportunity to get to know the armed forces without having to make a longer-term commitment right away. The first six months are a probationary period during which either party can give notice of termination. In order to perform voluntary military service, you must be at least 17 years old, have completed compulsory full-time education and have German citizenship. Applicants must also be willing to participate in operations abroad after completion of training.
Voluntary military service offers a wide range of opportunities
Military service volunteers are nonrated personnel. Like all military careers in the Bundeswehr, voluntary military service starts with three months of basic training in a recruit company. The training objective is "basic general military capability" for all recruits. In the broadest sense, they are trained as infantry personnel regardless of which armed service they are in. After that, the servicemen and women are introduced to their parent units, where they will generally go on to complete three months of post-related training. The young women and men learn to perform a certain specialist activity. Whether as armoured infantry soldiers in the Army, surface-to-air missile operators in the Air Force, navigators in the Navy, staff clerks in the Medical Service or members of the ceremonial guard battalion in the Joint Support and Enabling Service – personnel have numerous opportunities for specialisation after basic training.
While there are a wide variety of different training paths after basic training, there are also similarities across the armed services. Civic education, character guidance training, sport, CBRNchemical, biological, radiological, nuclear and medical training as well as deployment training phases are common subjects in the forces. During voluntary military service, both the Bundeswehr and the volunteers can decide whether to pursue an extension of the term of enlistment.
More money for voluntary military service
From 1 January 2020, the military pay of the some 8,000 military service volunteers was increased. The monthly military pay for the lowest rank (previously 840 euros plus around 500 euros of benefits in kind) now amounts to 1,500 euros. Staggered according to rank, it increases up to 1,900 euros for OR-3, senior grade, which corresponds to about 80 percent of the basic pay for a temporary-career volunteer of the same rank. In addition, the pay for military service volunteers is now increased in line with temporary-career volunteers' pay.
How much do military service volunteers earn?
Since 1 January 2020, the previous daily military pay rate and the military service bonus have been combined into a monthly amount of basic military pay. The basic military pay is:
| Rank | Basic military pay per month |
| --- | --- |
| OR-1 | € 1.500 |
| OR-2 | € 1.550 |
| OR-3 | € 1.650 |
| OR-3, senior grade | € 1.900 |
For assignments abroad, military service volunteers receive a monthly expatriation allowance. It amounts to:
Rank

Monthly expatriation allowance

OR-1
OR-2

€ 305

OR-3
OR-3, senior grade

€ 350
The following benefits are also provided:
Free military medical care
Free train rides in the second class between garrison and residence
Mustering-out pay: €100 per month of service (provided that the period of service was at least six months and one day)