The
Bundeswehr

takes delivery of the frigate "Sachsen-Anhalt"
The
Bundeswehr

takes delivery of the frigate "Sachsen-Anhalt"
Date:
Reading time:

2 MIN
The "Sachsen-Anhalt" is the third of a total of four frigates, which the Federal Office of Bundeswehr Equipment, Information Technology and In-Service Support (BAAINBwBundesamt für Ausrüstung, Informationstechnik und Nutzung der Bundeswehr) has accepted from ARGE F125. The Arbeitsgemeinschaft (ARGE) F125 is a consortium formed by thyssenkrupp Marine Systems GmbHGesellschaft mit beschränkter Haftung and Lürssen Werft GmbHGesellschaft mit beschränkter Haftung & Co. KG.
The third of four frigates
The F125 is not only the most modern frigate of the Bundeswehr, but it is also one of the most modern frigates in the world. Marc Steffens, the responsible project manager at BAAINBwBundesamt für Ausrüstung, Informationstechnik und Nutzung der Bundeswehr, is delighted: "With the "Sachsen-Anhalt", the German Navy is at long last receiving new equipment again. The units have been waiting for this for a long time and we look forward to being able to send the "Sachsen-Anhalt" on a mission as soon as possible." Together with Matthias Rohde, chair of the acceptance committee from the Bundeswehr Technical Center WTDWehrtechnische Dienststelle 71 in Eckernfoerde, and representatives from the German Navy, Mr. Steffens attended the small acceptance ceremony held in Wilhelmshaven.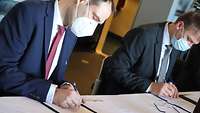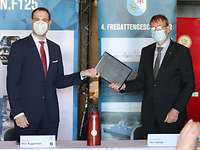 Intensive challenges lie ahead
The ship is planned to be commissioned by the German Navy next May. By then, the frigate's full operational capability must be established. This also includes the frigate's integration into the communication network of the German Navy. All activities are oriented towards achieving the full operational capability of the ship.
We are approaching the finish line of this important armaments project with great strides. The performance characteristics of class F125 frigates, such as the high degree of automation, the special capabilities in the area of maritime stabilization operations or the support provided to special forces, are unique in the German Navy.
A huge spectrum of tasks is waiting for the frigate: The class F125 ships shall not only be employed in the area of conventional national and collective defense, but above all in the field of conflict prevention and crisis management. In addition, the frigates shall also be employed in response and stabilization operations at the international level. The frigates are capable of engaging targets at sea as well as ashore, and they feature air defense systems. They can remain in their area of operations for a period of up to two years.
Like all class F125 frigates, the "Sachsen-Anhalt" will in future be assigned to Frigate Squadron 4 based in Wilhelmshaven.
Last frigate expected to arrive by the end of this year
BAAINBwBundesamt für Ausrüstung, Informationstechnik und Nutzung der Bundeswehr expects to be able to accept the last type F125 frigate from industry before the end of this year. Following the acceptance of the "Rheinland-Pfalz", full operational capability will be achieved. This means that the frigates can be used safely for their intended purpose.
More news from the AIN
Ausrüstung, Informationstechnik und Nutzung

organizational element