Fuchs KAI Armored Transport Vehicle improves protection of soldiers on operations
Fuchs KAI Armored Transport Vehicle improves protection of soldiers on operations
Date:
Reading time:

1 MIN
A few days ago, the fourth of altogether seven new Fuchs KAI Armored Transport Vehicles (KAI = Kampfmittelaufklärung und ‑identifizierung – explosive ordnance reconnaissance and identification) was delivered to the Bundeswehr.
"We actually wanted to celebrate the handover of the vehicle to the units in an official setting to honor this successful project",
said Major General Gert Nultsch, Deputy Director-General of the Federal Office of Bundeswehr Equipment, Information Technology and In-Service Support (BAAINBwBundesamt für Ausrüstung, Informationstechnik und Nutzung der Bundeswehr).
However, Coronavirus also prevented this event from happening. The project would certainly have deserved a big stage. After all, the vehicle is a quantum leap for the safety of soldiers on operations.
The most striking feature of the Fuchs KAI Armored Transport Vehicle is the extendable multifunctional arm, which is equipped with high-performance sensors, special tools and camera systems.
Reconnaissance of suspicious areas where for example IEDs are expected can thus be carried out at a distance and yet with millimeter precision. This significantly increases the protection of the operators, even in locations that are difficult to observe, such as under bridges or in sewers.
This multifunctional arm can also be used to rescue people from a hazard area, which is essential in the context of explosive ordnance defense capabilities.
Technical facts about the Fuchs KAI
| | |
| --- | --- |
| Engine power: | 320 HP |
| Maximum speed: | 80 km/h |
| Crew: | 4 person |
| Combat weight: | 23,6 t |
| Manipulator arm: | 2 pan-and-tilt heads with daylight camera, thermal imager and laser range finder |
| Load-bearing capacity of manipulator arm: | 400 kg |
| Equipment: | gripper, water-air spade (high pressure and air jet), ripper tooth, tool camera, dual sensor |
| Special function: | rescue of persons |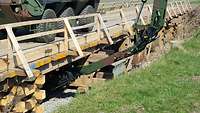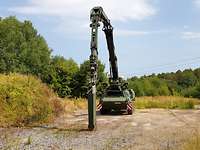 More news from the AIN
Ausrüstung, Informationstechnik und Nutzung

organizational element