A new era of testing has begun at the Bundeswehr Technical Centre for Aircraft and Aeronautical Equipment (WTDWehrtechnische Dienststelle 61) in Manching, Bavaria. Industry and the Bundeswehr have taken cooperation to a new level. The first project of this cooperation was the successful optimisation of the Airbus A400M cargo ramp locking mechanism.
To optimise the functions of the Airbus A400M, members of Airbus Defence and Space S.A. from Seville and WTDWehrtechnische Dienststelle 61 cooperate in the "A400M Flight Test and Evaluation Center" (AFTECA400M Flight Test and Evaluation Center).
As a part of this cooperation, there will also be tests looking into industry problems at WTDWehrtechnische Dienststelle 61. The mutual support and use of common resources between the Bundeswehr and industry as well as the simultaneous establishment of know-how facilitate independent testing and evaluation.
Optimisation of cargo ramp locking mechanism
Depending on the situation, the Airbus A400M sometimes also has to drop loads from higher altitudes. The full functionality of the transport aircraft's cargo ramp locking mechanism, however, had so far been ensured up to a certain flight altitude only.
Possible optimisations for opening and locking the cargo ramp were tested in the current trial with a total of three test flights at different flight altitudes and speeds.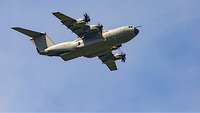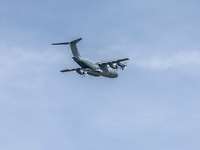 In the run-up to the trial, the test aircraft had already been equipped with a special flight test instrumentation in Seville. More precisely, these are special measuring systems to actuate the ramp locks in both the original and the modified locking sequence to compare the different behaviour.
In addition, a video documentation of the ramp locks and a recording of the corresponding control and status signals were made.
Testing under difficult conditions
The pressure and temperature conditions at extremely high altitudes presented a particular challenge during the test flights. Special precautions had to be taken for this purpose: First, the aircraft crew needed breathing oxygen due to the unregulated internal cabin pressure; second, they had to brave low external temperatures of -41°C and correspondingly low temperatures in the cargo bay.
Positive result achieved
The optimal preparation and smooth conduct of the test flights – only three flights were needed and a total of more than 100 test points scored – resulted in the successful completion of the campaign ahead of schedule. Initial results show an improved ramp locking mechanism when the new locking sequence is applied.
The successful testing and evaluation campaign has shown that such cooperation between industry and the Bundeswehr is beneficial for all parties. The foundation for future joint AFTECA400M Flight Test and Evaluation Center projects of this kind has thus been laid.