Working for the VJTF
Very High Readiness Joint Task Force

: Julia Wehner
Working for the VJTF
Very High Readiness Joint Task Force

: Julia Wehner
People

Equipment, Information Technology and In-Service Support
Julia Wehner is 25 years old and has been working for the Federal Office of Bundeswehr Equipment, Information Technology and In-Service Support (BAAINBw), Koblenz, since 2016.
After completing her training for the higher-level non-technical administrative career at the Federal University of Applied Administrative Sciences (Departmental Branch of Federal Defence Administration) in Mannheim, she was assigned to BAAINBw at her own request, where the civil servant, among other things, monitors projects of the AIN organizational element for the timely materiel buildup of the Very High Readiness Joint Task Force (VJTFVery High Readiness Joint Task Force ).
As a perfect supplement to this, Julia Wehner has served as a reserve soldier since 2019. Her parent unit will then be the lead unit of VJTFVery High Readiness Joint Task Force 2023, 37 Armored Infantry Brigade based in Frankenberg, Saxony.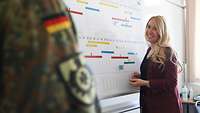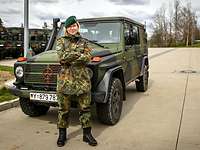 8 Questions to

Julia Wehner

Regierungsoberinspektorin
Ms. Wehner, how come you joined the
Bundeswehr?
Many of my friends and acquaintances serve in the Bundeswehr. Their stories inspired and intrigued me, so that I finally opted for the Bundeswehr as my employer.
What does VJTF
Very High Readiness Joint Task Force

actually mean

and

what is linked to this project, in particular

for

BAAINBw?
VJTF stands for Very High Readiness Joint Task Force. This is a rapidly deployable task force as part of the NATO Response Force. From 2022 onwards, this NATO spearhead will be under German command. It is supposed to be ready for action anywhere within very few days. As providing equipment to our forces is one of the core tasks of BAAINBw, our office of course plays a significant role in the materiel buildup of VJTF. Our staff was thus established to monitor and coordinate all measures and to ensure that VJTF has the required equipment on time.
What
do

you like most about your current job?
My task is to monitor projects and#en products for VJTF, which requires a high degree of system understanding across all levels. For as soon as disruptions become apparent in the projects, we have to find creative and effective solutions to avoid jeopardizing VJTF. To this effect, we exchange information with the managers of the respective#en projects at BAAINBw and with the troops. All this is very demanding and interesting – and that is exactly what I like. For#en me, no two days are alike, and all the planning#en may be overcome by events from one minute to the next. This is both motivation and inspiration for me.
How come you,
as

a civilian, became a reservist?
I'd say by chance. Initially, I wanted to volunteer for service in an operation abroad. That is why I did my military training. I still haven't been deployed abroad, but training up to now has only sparked my interest more. At quite an early stage, it became clear to me that I wanted to get involved as a reservist. For me, this is a way of getting to know and appreciating the Bundeswehr from a different perspective.
And

why did you specifically choose this VJTF

Very High Readiness Joint Task Force

brigade?
During my previous assignment, I accompanied 37 Armored Infantry Brigade on a duty trip to Lithuania as early as 2018. This is how the first contact was established. From 2022 onwards, the unit will provide the VJTF brigade. Thus, due to my work in the VJTF Headquarters, cooperation is increasing and we are forming some sort of symbiosis.
What
are

the advantages of your being a reservist

for

you,

but

also

for

BAAINBw?
I think the motto "By the troops for the troops" hits the nail on the head. In my opinion, it is best to be part of the troops to understand what the soldiers need to execute their missions. By changing my perspective from that of a civil servant at BAAINBw to that of a soldier serving in 37 Armored Infantry Brigade, I am in a position to scrutinize problems and unanswered questions from a different angle. This opens your eyes for new approaches. So this leads to a win-win situation for both the VJTF Headquarters and 37 Armored Infantry Brigade, and I have the feeling that I have done the best one can for#en the VJTF brigade in terms of materiel equipment, having considered "all angles".
And

how

do

you find balance amid your demanding daily work?
I like to do sport as a counterbalance to my work. After a hard day's work, there is nothing I like more than going for a run. Also, I regularly take part in organized runs and I am a member of the "Bundeswehr and Reservists Running Team" too.
Finally, a rather unconventional
question:

Who would you like to meet in person?
Dr. Peter Tauber. Not only is he the patron of our running team, he is also a role model for me. For me, he embodies the essence of a good politician and soldier and I admire the way he openly deals with topics that unfortunately are considered taboos still today.
This is what Julia Wehner's jobs are
Please use the arrow keys (left / right) below to jump to the previous / next slide. Use the tab key to jump to elements (such as links) within the active slide.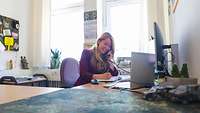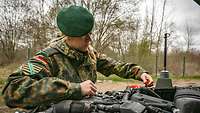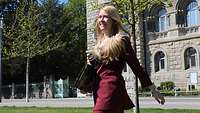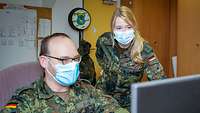 You are now leaving the slide module. Press Tab to continue, or otherwise just use the arrow keys to continue navigating.
Other people in the AIN Organization