The
Bundeswehr

Subsistence Office

"Enjoy your meal – any place, anytime."
Mission
"Enjoy your meal – any place, anytime." Offering variety, quality and flexibility during deployments and routine operations and thus making a valuable contribution to enhancing functionality and attractiveness of service in the Bundeswehr. This is the motto and guiding principle of the Bundeswehr Subsistence Office. The agency's central objective in this context is high customer satisfaction, which in turn substantially contributes to the attractiveness of service. In Oldenburg, home of the Bundeswehr Subsistence Office, about 250 civilian and military personnel contribute to the success of Bundeswehr catering services every day.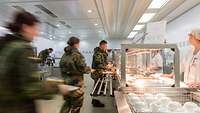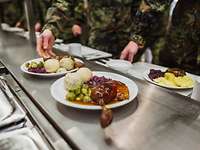 Supply
The Bundeswehr Subsistence Office is the sole operator of all Bundeswehr dining facilities. Their smooth operation is ensured by approximately 3,000 staff members. In Germany, a total of 36 highly skilled and experienced chefs certified by the German Chamber of Industry and Commerce are in charge of these facilities as regional managers. However, the Bundeswehr Subsistence Office also provides catering to those service members who do not have the possibility to eat in the dining hall: for example, with collective subsistence products from the field kitchen, but also with one-day individual field rations (widely known as "EPa" in Germany), which cover the daily requirements of a person even when messing facilities are not available.
Global Food Logistics
The Bundeswehr Subsistence Office, in close cooperation with the Bundeswehr Logistics Centre, also coordinates and organises the transport services required to ensure that German service members deployed on operations or foreign assignments are supplied with fresh, chilled and frozen products. For this purpose, food supplies are sent from Oldenburg to German contingents and units afloat every day. Depending on the area of operations, food and personal demand items are either transported by land, air or sea.
How to find us
"Passen Sie jetzt Ihre Datenschutzeinstellungen an, um Google Maps Standortinformationen zu sehen"
Contact