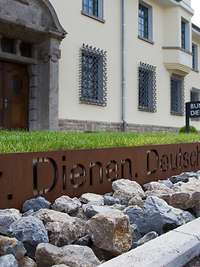 The
Bundeswehr

Service Centres
The main task of these local authorities of the Federal Defence Administration is to provide services. They do so from 42 locations spread across Germany – from A as in "Aachen" all the way to Z as in "Zweibrücken". Bundeswehr Service Centres act as service partners vis-à-vis the military and civilian personnel of the Bundeswehr.
Mission
Service support of approximately 1,500 military and civilian Bundeswehr agencies is ensured by more than 20,000 personnel assigned to a total of 42 service centres located throughout Germany – from Husum in the north to Bad Reichenhall in the south, and from Aachen in the west to Torgelow in the east. They are part of the Bundeswehr's organisational element "Infrastructure, Environmental Protection and Services", provide services from a single source and are present in many military installations in order to be as close as possible to their customers.
Principal duties
Similar to a large company, Bundeswehr Service Centres perform a wide variety of tasks. Daily services include personnel affairs, financial services, facility management, environmental protection and nature conservation, as well as food and internal services.
The force behind the forces