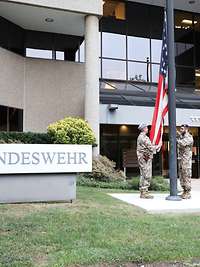 Offices of Defence Administration Abroad
The Federal Republic of Germany Offices of Defence Administration Abroad (BWVStBundeswehrverwaltungsstelle) in Belgium, France, Great Britain, Italy, the Netherlands, Poland and the USA/Canada are under the authority of the Federal Office for Infrastructure, Environmental Protection and Services of the Bundeswehr in Bonn.
Service provider for the
Bundeswehr
Whenever members of the Bundeswehr serve abroad, they are supported by IUDInfrastruktur, Umweltschutz und Dienstleistungen personnel. In this context, the Offices of Defence Administration consider themselves service providers that focus their work on the needs and interests of the military and civilian personnel serving abroad.
Their principal duties, therefore, are mainly centred on supply support – e.g. with food and clothing – as well as decentralised procurement; in addition, they are responsible for housing support and property management as well as pay-related issues such as travel expenses and separation allowance.
More about: Offices of Defence Administration Abroad