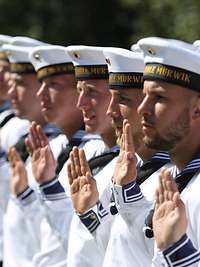 The German Navy's Mission
The Navy is deployed worldwide at sea – to protect sea routes and citizens, to prevent conflict and manage crises, for humanitarian aid and, if necessary, for defence.
We protect and help everywhere at sea
The German Navy's tasks are derived from the mission of the Bundeswehr as a whole. On the one hand, the Navy makes its contribution to the Bundeswehr's overarching range of tasks within the maritime dimension and where it borders on land and air: for national and alliance defence, for international crisis management, for homeland security, including national crisis and risk preparedness, and for international, humanitarian emergency and disaster relief.
On the other hand, the Bundeswehr assigns specific tasks to the German Navy in its maritime domain: control of sea areas, protection of maritime traffic routes and, together with other government agencies, security in the German maritime area. In addition, the Navy is involved in other sub-tasks of the armed forces. These include, for example, reconnaissance and combat in the electromagnetic spectrum, strategic transport of troops, or training and exercise in general.
Ready to fight at sea and on the borders to land and air
Therefore, the Navy is prepared for a range of possible tasks – from police-like and humanitarian missions to naval warfare in three dimensions: above, upon and below the water line. It provides Germany with the maritime capabilities to deal with conventional and asymmetrical threats upon and from the sea. Its core skill is the fight against enemy forces.
The Navy protects land and air forces of the Bundeswehr and their international partners during transport to and from areas of operation. It uses the open sea as the basis for military operations, but also for humanitarian aid.
Securing interests across the high seas
Even in peace and in everyday life, the Navy, together with its international partners, ensures the freedom of the seas and their unhindered, peaceful use. The maritime interests of the trading nation Germany extend far beyond the territorial waters of the Federal Republic. Last but not least, the Navy bears responsibility for protecting German citizens beyond Germany's borders.