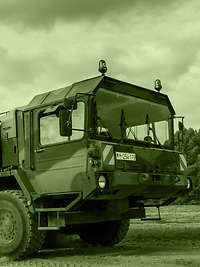 Army Logistics
The diversity of the German Army is reflected in its different branches. Each of these branches has its very own set of distinct skills and capabilities, yet they are at their strongest and most successful only when they work together. Specialised equipment is used to overcome a wide variety of challenges. Learn more about Army logistics.
Our mission
The Army's logistics forces use their assets and resources to ensure operational readiness, sustainability, mobility and accommodations for all branches of the Army. Army logistics focuses on providing all types of supplies, including fuel and ammunition, as well as on the maintenance of military equipment.
Supply and maintenance in the first 24 hours of a land operation and over the last 100 metres are especially challenging. That means that each individual service member must receive logistic support, even under every operation's unique set of circumstances. Army logistics draws on a personnel pool of more than 15,000, accounting for about 15 percent of the Army's overall strength. These figures illustrate how important logistics is to a successful conduct of operations.
The branch is headed by the Director of Army Logistics, who is also the Commandant of the Land Systems Technology Training Centre.
Supply and maintenance
In an operational environment, the Army's vehicles and weapon systems consume thousands of litres of diesel fuel per day. Soldiers require hundreds of kilogrammes of food and thousands of litres of water. Tanks, trucks and other military equipment suffer damage or decrease in operational readiness due to wear and tear. The mission of Army logistics is to provide the force with the required supplies, and to evacuate and repair disabled equipment even in a high-threat environment.
By employing its personnel and equipment, Army logistics is able to ensure combat service support for other Army forces for limited periods of time. If required, support can also be provided to the personnel of the other major military organisational elements, such as the Air Force, Navy, Joint Support and Enabling Service, and Joint Medical Service.
Logistic services in the Bundeswehr are provided using a multi-tier system that is made up of various logistic echelons. Within the individual battalions, companies or batteries, this task is handled by the Logistic Services. At brigade level, organic combat service support battalions ensure the capabilities of supply, transportation and maintenance.
A wide variety of tasks
The following list highlights some of the many tasks carried out by Army logistics:
Carrying out maintenance of tracked and wheeled vehicles
Carrying out maintenance of small arms and complex weapon systems
Carrying out maintenance of radar and communications systems
Supplying fuel
Supplying ammunition
Supplying food, drinking water and items of personal demand
Supplying clothing
Supplying consumables and spare parts
Transporting all types of supplies
Recovering and evacuating tracked and wheeled vehicles
Performing transshipment of air-delivered supplies
Providing military postal services
Mountain pack animals
If the weather or terrain preclude the use of helicopters or all-terrain cargo vehicles, pack animals are often the only – and highly reliable – alternative, especially in difficult alpine terrain. The Bundeswehr has a unique asset in its mountain pack animals, another capability offered by Army logistics.
Army logistics
Passen Sie jetzt Ihre Datenschutzeinstellungen an, um dieses Video zu sehen
This is how Army logistics troops fight

Battle cry of the Supply Corps
Logistik – rollt [logistics – on the move]
Battle cry of the Maintenance Corps
Logistik – rollt [logistics – on the move]
Our equipment
To recover disabled vehicles and lift loads during maintenance work, the Maintenance Corps relies on various pieces of equipment, including the Bergepanzer 2 and Bergepanzer 3 Büffel armoured recovery vehicles as well as its light and medium mobile cranes. These mobile cranes are also used by the Supply Corps for the transshipment of heavy supplies.
To transport heavy vehicles, such as the Marder infantry fighting vehicle, Army logistics relies on the heavy equipment transporter, or HET. In addition to several variants of mostly all-terrain vehicles, logistics personnel employ the 15-tonne MULTI transporter for supply and transport. The MULTI system (short for Mechanisierte Umschlag-, Lager- und Transportintegration, or mechanised transshipment, storage and transport integration) is a demountable rack offload and pickup system with which supplies, especially ammunition, can be rapidly provided to the force. The supplies are carried on demountable cargo beds, or flat racks, which can be quickly dropped and exchanged for empty flat racks once the vehicle has reached its destination.
Bundeswehr personnel deployed on operations abroad face a wide range of threats, which is why Army logistics also employ protected transport and command vehicles. One such asset is the Dingo all-protected carrier vehicle.
Our history
History of Army logistics
Since humans began waging war, logistics has been indispensable. There has always been a need for experts who know how to fix weapons beyond the soldier's ability to repair or who are able to supply an army with the goods it needs.
Until the 18th century, the troops chiefly lived off whatever the land and the local population could provide. As industrialisation progressed, weapons technology became ever more complex, while the armies and the distances they covered grew ever larger. This resulted in a steady increase in the demand for the resources needed to keep weapon systems in full working order or restore them. For instance, one of the reasons that Napoleon was defeated in the Russian campaign was because the Russian czar had left behind only scorched earth. Napoleon's soldiers could find nothing to eat, and the Russian winter did the rest.
The number of soldiers not involved in the fighting but instead used to supply and support the combat force increased progressively, as the following figures show: Until the end of the 17th century, around 10 logisticians were needed to make sure that 100 soldiers could fight. Today, Army logistics account for about 15 percent of the Army's overall strength.
Following plans drawn up by the Blank Agency (the predecessor of the Federal Ministry of Defence), transportation and supply units were combined in the 1950s to form the Quartermaster Corps. On 5 March 1956, the Ordnance School was set up in Sonthofen, followed by the Quartermaster School, which was established in Andernach on 29 May 1956.
In 1969, the Technical Corps, tasked with maintenance and supply, was reorganised into the new branches of Maintenance Corps and Supply Corps. In 1973, the Technical Corps School 1 and Army School of Technology, representing the Army's largest service school, was established in Aachen. The training institution, still based at the same garrison, is presently designated as the Land Systems Technology Training Centre. Between 1993 and 1997, logistic forces underwent the first test of their mettle on operations abroad, serving in Somalia with UNOSOMUnited Nations Operation in Somalia and in the Balkans with IFORImplementation Force and SFORStabilisation Force.
With the reunification of Germany in 1990, the German armed forces no longer had to focus on the front lines of the Cold War – the inner-German border. In the following, a three-tiered logistic system was established, made up of Logistic Services elements integrated into each branch along with maintenance and supply regiments and three logistic brigades.
Battle damage repair was built up to be an effective tool, as combat operations are likely to become ever more rapid and mobile. From 2003 to around 2005, in addition to national defence responsibilities, Army logistics began focusing more and more on tasks in the framework of NATO obligations and international crisis management outside Germany.
In 2006, the Army's Maintenance Corps and Supply Corps as well as its Maintenance Services and Supply Services were merged to form Army logistics.