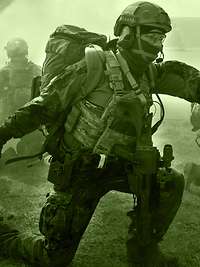 Special Operations Forces
The diversity of the German Army is reflected in its different branches. Each of these branches has its very own set of distinct skills and capabilities, yet they are at their strongest and most successful only when they work together. Specialised equipment is used to overcome a wide variety of challenges.
Our Mission
The Special Operations Forces Command, or, for short, SOFCOM (in German 'KSKKommando Spezialkräfte', for 'Kommando Spezialkräfte'), encompasses the German Army's special operations forces (SOF) and has unique capabilities at its disposal within the Bundeswehr. Spanning the entire gamut of tasks that fall within the Bundeswehr's remit, these capabilities give the Federal Republic of Germany added options in its courses of action.
The current operational spectrum of Germany's armed forces, ranging from international crisis management, to national crisis prevention, to national and collective defence, also includes special tasks of strategic interest.
Hostage Rescue and Special Reconnaissance
SOFCOM's field of activity essentially comprises offensive operations. This includes the rescue and liberation of German citizens or other persons from captivity, hostage situations, or terrorist threat scenarios abroad. Where the situation requires, SOFCOM has the capability to detain war criminals or terrorists abroad, even should they offer resistance, and to seize material of particular importance.
The SOF work together with security forces of partner nations and provide them with training support. They protect friendly forces and individuals in case of danger.
Special reconnaissance is a further core SOFCOM task, one of their jobs being to gather key information in crisis and conflict zones for the military leadership.
Deployments anytime, anywhere
Deep operations against high-value military targets define the combat missions of the special operations forces. This also includes incapacitating or destroying important command and control systems, sites and facilities.
Such missions call for special training, equipment and structure and cannot generally be accomplished by conventional units. Their members are trained to deploy at any time around the world, in any climatic zone, and in many different ways. This can mean operations in the mountains, the jungle, the Arctic, and the desert.
Forming the core of the Bundeswehr's special operations forces network, SOFCOM is an important enabler for national risk and crisis management.
Jointly Operating Special Operations Forces
SOFCOM and its missions are subject to a particular level of classification owing to it also carrying out covert operations. Where the situation requires, SOFCOM personnel also operate together with Air Force special operations forces. They may be called upon to act jointly when rescuing hostages, for instance.
SOFCOM may also undertake operations where the employment of conventional forces is not, or not yet, suitable. The timing and location of their operations are generally independent of those conducted by other field forces.
Command and Control of Special Operations Forces
At the military strategic level, the Directorate-General for Strategy and Operations within Germany's Federal Ministry of Defence oversees the special operations forces. When employed nationally, SOFCOM is under the operational command of the Special Operations Division within the Bundeswehr Joint Forces Operations Command. When acting as part of multinational missions, SOFCOM personnel are under the tactical command and control of a combined command post.
In addition to its headquarters and Special Operations Component Command (SOCC) Headquarters and CISCommunication and Information Systems Support Company, SOFCOM comprises commando forces and support forces together with an organic combat service support medical clinic. SOFCOM also has its own force development and training components.
When on routine duty, SOFCOM is under the command and control of the German Rapid Response Forces Division.
Army Special Operations Forces
Passen Sie jetzt Ihre Datenschutzeinstellungen an, um dieses Video zu sehen
Combat Methods of the Army Special Operations Forces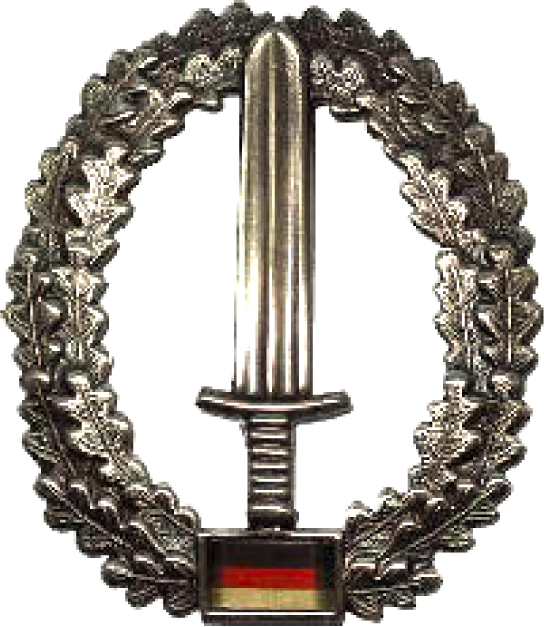 Battle cry of the Army Special Operations Forces
Der

Wille entscheidet! (Will to Win!)
Our Equipment
The ambition of being able to deploy around the world at any time requires the special operations forces not only to be the utmost professionals but also to have special equipment. As SOF is deployed to widely ranging climatic zones and has to meet ever changing challenges, its equipment is constantly adapted and upgraded accordingly.
With that in mind, SOF has its own force development component. Many technical prototypes successfully used by SOF are later also adopted as items of equipment by other Bundeswehr units.
Modified Weapon Variants
Although weapons and equipment can vary according to operational scenario, the special operations forces have also been using certain items of equipment continuously for many years. For instance, the variants of the G36 assault rifle and P30 pistol modified for special operations are the standard weapons used by SOF. In future, SOF is to be equipped with the new G95 assault rifle which, like the G36, will have a calibre of 5.56 mm x 45 mm. Snipers serving with SOF use not only the G22, the Bundeswehr's standard sniper rifle, but also other special weapons to engage targets at medium and long distances.
SOF has had the SERVAL reconnaissance and combat vehicle, specifically developed for commando operations, at its disposal since 2003. For Arctic deployments SOF uses off-road quads, modified off-road motorbikes, a number of boats as well as snowmobiles in addition to the usual Bundeswehr vehicles.
Fast Transport by Helicopter to Place of Deployment
To get special operations forces to their place of deployment by air, SOF works closely with 64 Helicopter Wing of the German Air Force, which is equipped with rotary aircraft of the type H145M LUH SOFLight Utility Helicopter – Special Operation Forces (Light Utility Helicopter - Special Operations Forces). This light multirole helicopter can convey a team of four SOF soldiers swiftly to their destination. It is even possible to transport the LUH SOFLight Utility Helicopter – Special Operation Forces in an Airbus A400M, the transport aircraft employed by the German Air Force, and use it immediately after unloading.
Our History
History of the German Army Special Operations Forces
A bloody civil war in Rwanda in East Africa precipitated the establishment of the Special Operations Forces (SOF). Structural problems, a high population density and conflicts between the ethnic Hutu and Tutsi groups culminated in a brutal genocide in 1994.
According to estimates of the UNOUnited Nations Organization (United Nations Organisation), the civil war claimed some 800,000 human lives. And although Rwanda is located several thousand kilometres away from Germany, this tragedy at the time also directly affected the security interests of the Federal Republic.
The reason for this was the massacres of the indigenous population which endangered the lives of German citizens in Rwanda. Eleven employees of radio broadcaster "Deutsche Welle", for instance, became trapped close to Kigali, the capital, and could no longer leave the country.
At that time the Federal Republic of Germany did not have any military special units which would have been able to rescue German nationals from crisis areas at short notice. Special police units such as GSGGrenzschutzgruppe (Border Protection Group) 9 were neither then, nor now, capable of operating in conflict regions.
Belgian Para Commandos – a special operations unit of Belgium's airborne infantry – were eventually called upon to evacuate the radio broadcaster employees as part of one of their own operations. For German politicians it was unacceptable that Germany, a leading nation in Europe, saw no possibility of rescuing its own citizens from crisis situations. Volker Rühe, the then Federal Minister of Defence, commented on this situation thus:
"Having the capability, in an emergency, to rescue its own nationals whose lives are in danger abroad is a fundamental responsibility of any country."
Rühe thereupon took steps to establish and build up Germany's own special operations forces unit, the Special Operations Forces, or SOF (KSKKommando Spezialkräfte - Kommando Spezialkräfte).
The reorientation of security policy in Germany, initiated in 1994, included specific guidelines. German crisis response forces were to be equipped so as to be able to conduct operations in conjunction with alliance partners. The requirement was to cover the entire spectrum of possible missions. That same year the Army Staff developed a conceptual basis for German special operations forces.
Between 1995 and 1996 there was then the first training of soldiers in close cooperation with USUnited States and British special operations forces. GSGGrenzschutzgruppe (Border Protection Group) 9 of what is now the Federal Police also contributed its expertise to the soldiers' extensive training. The police thus also had a hand in SOF's capability development.
April 1996 saw the deactivation of 25 Airborne Brigade "Schwarzwald" ("Black Forest") at the Graf Zeppelin Barracks in Calw. At the same time the Bundeswehr started to build up SOF. Through the establishment of SOF in Calw, the prerequisites for crisis prevention and management now emphatically improved.
The previously existing long-range reconnaissance and commando companies from the airborne brigades were now subsumed under one command. The special operations forces were eventually provided with their own headquarters and signal and support assets, and were now equipped for purpose.
The Bundeswehr officially activated SOF on 20 September 1996 and commenced with regular training. The first special operations forces personnel came largely from the close-protection companies of the airborne infantry and from the long-range reconnaissance corps.
During the formative years of SOF, Lieutenant General Helmut Willmann, then Chief of Staff, Army, became the driving force behind the Command's quick and purposeful development. The tradition of deactivated 25 Airborne Brigade "Schwarzwald" has been upheld in SOF to this day.
It was during that exercise that SOF first presented itself in public and its members demonstrated their skills in the rescue and freeing of civilians.
That same year SOF was conferred its cap badge (sword framed by oak leaves).
From 1998, SOF started to conduct missions across the globe. Operations in Yugoslavia, the Congo and Afghanistan were the focal points.
After the German Bundestag decided that Germany would participate in Operation Enduring Freedom following the terrorist attacks of 11 September 2001, SOF personnel were among Germany's initial entry forces in Afghanistan. SOF has since been operating in Afghanistan under the mandates issued by the Bundestag and carrying out a mission that reflects the entire operational spectrum of the special operations forces. 
To this day, SOF operate in secret and across the globe.
Their professionalism and commitment to accomplishing their mission has also won these elite German soldiers the respect and recognition of other, international special operations units.
On 7 December 2004 the then USUnited States President, George W. Bush, awarded SOF the Navy Presidential Unit Citation. This is the highest award of the USA that units can receive for their bravery. President Bush emphasised the courage, resourcefulness and fighting spirit demonstrated by the Bundeswehr Special Operations Forces.
In 2017, a Special Operations Component Command (SOCC) Headquarters and CISCommunication and Information Systems Support Company was added to SOF. It is tasked with setting up and operating a NATO (North Atlantic Treaty Organization) command post for multinational special forces operations.